More people in the U.S. have vascular issues than have heart issues. Rightly so, cardiac gets more attention. Yet, vascular insufficiency – especially deep vein thrombosis, or DVT – is equally dangerous.
I use that to point out that another reason I love being a vascular surgeon.  The work we do really matters, and I've been fortunate to work and learn from some of the best. Prior to opening BoxBar, I was a surgeon and medical director of safety at Providence Everett.  I've had fellowships at the University of Washington, and a third in Endovascular Surgery at Kaiser Permanente in Honolulu.  I've learned from the best, every step of the way.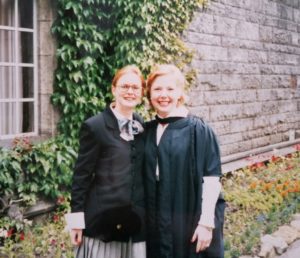 Myself and my best friend, Sophie Gauthier at my graduation from St. Andrews in Scotland.
I'm a great believer in continuing education: I have a Master in Public Health from the University of Washington that I finished in 2013, and got my M.D. at the University of Texas in San Antonio.  (Fun fact: Early on, I was a classics student at Sothern Methodist University and St. Andrews in Scotland. Patients with a command of ancient Greek are especially near and dear to my heart! 
)
One of the most interesting stops on my journey has been working with the University of Washington and the Washington State Foundation for Healthcare Quality.  We were one of the first groups to monitor and chart evidence-based outcomes in several fields of medicine: vascular surgery, interventional radiology, and interventional cardiology.  This is important work. Standardizing processes based on best outcomes is something critically important to raising the level of already-high health care quality in this region.  It's so important I acted as a delegate for King County on Health Care Policy for the State of Washington.  As we've all learned these past few years, health care policy at both the state and federal level is something in which we all have a stake.
Next blog I want to talk about how taking care of your vascular health can not only save lives, but improve them.
Take good care!
-Ellen